What Are the Top Speeds of Porsche Models?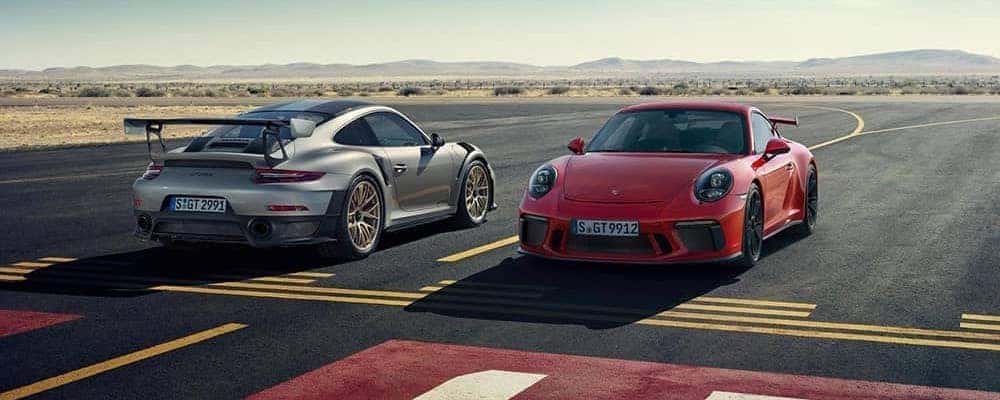 When you're driving through Torrance and you hear that unmistakable roar, you know you're in the presence of a Porsche. From coupes, convertibles, and sedans to family-size SUVs, Porsche models have a strong reputation for delivering the ideal balance of legendary engine output, meticulously crafted exteriors, and luxury interiors. To say that Porsche models are fast is a bit of an understatement. So, what exactly are the Porsche top speeds? Find out with the team at Porsche South Bay, below!
Porsche 718 Top Speeds
The Porsche 718 is available as a coupe or convertible and is the perfect vehicle for Palos Verdes performance enthusiasts who don't mind a little attention when cruising around town or powering down the highway. Check out the top speeds for all Porsche 718 models, here:
Porsche 718 Cayman Top Speed: 170 mph
Porsche 718 Boxster Top Speed: 170 mph
Porsche 718 GTS Top Speed: 180 mph
Porsche 718 Cayman GT4 Top Speed: 188 mph
Porsche 718 Spyder Top Speed: 187 mph
Porsche 911 Top Speeds
Porsche 911 models are instantly recognizable for their athletic exterior designs which are available in coupe or convertible body styles. You're sure to be impressed with the Porsche 911 top speed numbers, as some models are capable of hitting 0 – 60 mph in under three seconds:
Porsche 911 Carrera Top Speed: 182 mph
Porsche 911 Targa 4 Top Speed: 179 mph
Porsche 911 GTS Top Speed: 193 mph
Porsche 911 Turbo Top Speed: 198 mph
Porsche 911 Speedster Top Speed: 192 mph
Porsche 911 GT3 Top Speed: 198 mph
Porsche 911 GT2 RS Top Speed: 211 mph
Porsche Panamera Top Speeds
Prefer the look of a four-door sedan? You'd do well to consider the Porsche Panamera. Whether you're on the track or on the highway, you'll love the heart-stopping performance put out by the Panamera. Take a closer look at Panamera models' top speeds, below:
Porsche Panamera Top Speed: 164 mph
Porsche Panamera GTS Top Speed: 181 mph
Porsche Panamera Turbo Top Speed: 190 mph
Porsche Panamera E-Hybrid Top Speed: 172 mph
Porsche 918 Spyder Top Speed
The Porsche 918 Spyder is no longer a part of the current Porsche lineup, but its performance and top speed is so awe-inspiring that we think it more than deserves an honorable mention. This hypercar made waves when it entered the market, able to reach a top speed of 214 mph! Pair that with a three-second 0 – 60 mph time, and it's no wonder local performance car enthusiasts are still wanting to know how they can get behind the wheel of a pre-owned model.
Porsche Macan Top Speed
Manhattan Beach families searching for their next spacious SUV need look no further than the luxury Porsche Macan. This performance-focused five-passenger SUV proves that you don't have to sacrifice power for utility, hitting a top speed of 141 mph.
Porsche Cayenne Top Speed
The Porsche Cayenne is unique in that it can be configured as a classic SUV or as an eye-catching coupe. Prefer to go electric? The Cayenne is also available as an efficient E-Hybrid model. Take a closer look at Cayenne top speeds, below:
Porsche Cayenne Top Speed: 152 mph
Porsche Cayenne Coupe Top Speed: 150 mph
Porsche Cayenne E-Hybrid Top Speed: 157 mph
Experience Porsche Performance at Porsche South Bay
Want to get behind the wheel and experience Porsche performance first-hand? Contact our team at Porsche South Bay to arrange an appointment at our Hawthorne showroom! Our Porsche specialists will work with you to find the all-electric 2020 Taycan configuration or family-oriented SUV that perfectly suits your needs, while our finance team can tell you more about our Porsche lease specials for models like the 911, the Macan, and more!